This last spring, I was fortunate enough to be a member of a school based ecological-literacy inquiry team. For one of our meetings we decided to visit a school on Saturna Island called the Saturna Ecological Education Centre (SEEC). There we met Martin Anevich, the programs lead teacher, and the several students under his care. They gave us a grand tour of their school's property including dorms, a shared cooking/hang out area, and their solar panel set up which powers most of the small campus.
The students were encouraged by Martin to mingle with us, a group of teachers and administrators, and show us all the things they had been learning. Throughout the day I was shocked to see how engaged the students were and how motivated they were to be discovering new things about the environment around them and the visitors who had come to see their school. The students were dedication and had a desire to learn and inquire that really blew me away.
You can learn more about SEEC in the video below.
After watching Education as if people mattered, a TEDxTalk b
y Jeff Hopkins (@hopkinsjeff) and having an in class conversation with him, I wasn't surprised to learn that Jeff was not too long ago the superintendent of the Gulf Islands School District.  This is the same district that the SEEC operates in. Jeff now is the principal teacher at the Pacific School of Innovation and Inquiry (PSII). PSII is a school based heavily on inquiry and self-motivated methods of learning/educating. As an educator I am always extremely intrigued and slightly skeptical at the success of heavy inquiry-based learning. In my experience, there are some students who thrive and excel in this kind of learning environment while others flounder and lose focus and even give up. I think a lot of the time the reason for students lack luster performance with inquiry-based learning is because they are not used to it and have not been trained to do it. For example, in my grade 11-12 woodworking classes students are given the opportunity to find their own project and pursue it. For some this leads to the chance to really test their skills and try something that they have wanted to do. For others, they can't grasp why I am not assigning a project and ask me what they should make. I always try to work with them through a process of finding their own projects but there is often a small group of students who just refuse to take the reins of their education.
When I was at SEEC I noted that the students there all had to sign up for it and were not necessarily from the island.  These students chose to take on this specific kind of learning and for those that didn't like it, they went back to their original schools.  I feel there is a lesson to be learned here.
After our class conversation with Trevor MacKenzie (@trev_mackenzie), (EdTech MEd student at UVic & Teacher at Oak Bay Secondary on Social Media to Support Inquiry) I realized that it is possibly a shortcoming of my scaffolding techniques that may be limiting my successful inquiry results. This did give me pause and force me to re-examine my inquiry methods. Next school year I plan to try and build from structured inquiry and work through a controlled and guided inquiry until the students are working at a free inquiry.
It wouldn't take too much change and integrate t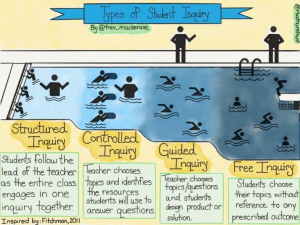 his approach. Usually the first project we do we do it together. Next, I would provide students with demos, instructions, and other resources to guide the through their projects. The next project I would give them the goal (example: a table or horizontal surfaced piece of furniture) and the students would find the resources and instructions to design and build to that end goal. Lastly, they would come up with their own project and then design and build it.
Getting to meet and talk with Jeff Hopkins and learn from his experience as the lead of an inquiry school was very eye opening for me. It was interesting to see what he has managed to do and hear about the growth and changes that have taken place at PSII in the last 6 years since the schools opening. I was especially heartened to learn that his school does not pick and choose students to join but accepts students off all abilities and needs.  I love how the school encourages students to follow their own interests and encourage them to connect with community businesses and groups.  This is something I try to do in my own classroom, but I often am more limited in scope of people to connect with as Sooke, where I work, is a small community in comparison to Victoria.
Here is a link shared by Jeff which I intend to use to help guide me in the practice of inquiry:
https://humanlearninginstitute.ca/wp-content/uploads/2019/07/inquiry-flowchart-2019-20.pdf